Oropesa is one of the oldest inhabited sites in Spain. It is said that Hercules founded the town in 1716 BC. under it's previous name of Orospeda.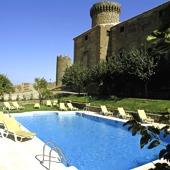 In 1366 the castle and surrounding lands belonging to Don Garcia Alvarez de Toledo who restored it only for it to be virtually demolished 100 years later.
Restoration took place in 1402 which is basically the castle of today. A later member of the family was Francisco de Toledo, Count of Oropesa who served as 'Virrey' of Peru after whom the Parador® has its name.
Over the years the castle has been a refuge for soldiers, monks, nobles and travellers and this use continues as a Parador®.
From the rooms, or better still from the top of the Homenaje (Homage) Tower, there are exceptional panoramic views of the Vineyards, olive groves and grazing land with the background the often snowcapped Gredos mountain range.
Similar views can also be enjoyed while using the hotel swimming pool.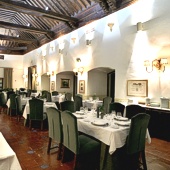 Columns and arcades make the courtyard a feature of the Parador® with original adornments such as curtains, lamps, and large chests are used as decoration.
Game and seasonal produce form the basis of the dishes from Oropesa with Toledo specialising in tasty roasted lamb. The Oropesa Parador® restaurant specialises in these local dishes which are to be found on the menu. The chef recommends that you try:
"Perdiz escabechada" which is a rich stew made with partridges;
"Goulash de ciervo", a dish of stewed venison served with the fresh vegetables of the region;
also recommended are "Suspiros de monja" - cream puffs;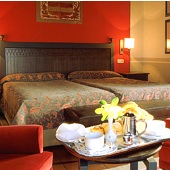 September is an interesting month to visit Oropesa. The annual festival is held from the 8th for three days and this is followed by the festival of Beato Alonso which takes place on the 18th and 19th of the month.
This Parador® of Oropesa has thirty twin bedded rooms, fourteen rooms with a double bed and four suites. All the the rooms have a private bathroom and also contain a telephone, satellite television and a mini bar.
The bedrooms are smaller than is usual in a Parador® but are not unduly cramped. They are bright and decorated with woven curtains and bedspreads and have windows looking out over the vineyards of the area.
The Parador® Oropesa has air conditioning and central heating, currency exchange, lift, parking facilities (without security and limited places), piped music, satellite television, seasonal swimming pool, a restaurant and bar. There are facilities to hold business meetings.
Distance from the nearest airport is approximately 165 kms and the nearest train station is 1 km away.
Pets are not allowed in the Parador®.