The building is an ancient mansion dating from the 17th century, this Parador® offers the tranquillity of the former Pazo de Bazan manor house.
Located in the green landscape of the Rias Baixas, the surroundings are made up of luxuriant pine groves, beaches, coves and numerous country houses running along the Galician coast.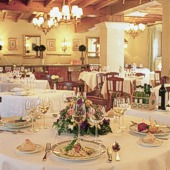 The Parador® is located in the centre of the small town of Cambados, a short distance from the Isla de la Toxa. It has an attractive inner courtyard boasting arcades, a fountain, and a slender palm tree.
Pleasant bedrooms with comfortable furniture are delightful in the warm sun. Stone columns, wooden ceilings and beams will be seen in the common rooms.
Do not forget the attractive garden and tempting swimming pool.
The region of Galicia is famous for its pies and seafood dishes.The Parador's® restaurant serves the local cuisine and also has a gluten free menu.
Being in the Spanish Rias it is an area noted for shell fish, many of which are cultivated locally.
Specially recommended are: "empanada de berberechos" which is a pie made with cockles;
"lenguado al Albarino" being sole cooked in the local white wine;
and the "marisco" platter containing many types of shellfish;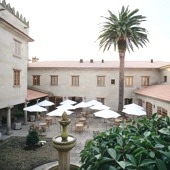 In Cambados, enjoy the pleasant views as you walk down the seaside promenade and around the yachting harbour. Visit the Fefinanes square, the San Benito church, and the Muino da Seca tidal water mill.
Outside Cambados, explore the cities of Pontevedra, Vigo, Villagarcia de Arousa, and A Toxa Island.
Do not miss the sardine party which takes place during the Santa Margarita Feasts held on July 25th, or the albarino wine party held the first weekend in August.
You may also go to the Feasts of San Benito (July 11th), Santa Marina (July 18th), and Nuestra Senora de la Pastora (August 18th).
The coast, the rivers and the beaches of Arousa island are excellent for activities such as swimming, horseback riding, 4x4 driving, rafting, cruising and golf.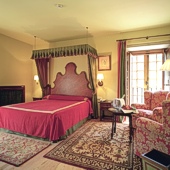 The Parador® of Cambados has a seasonal swimming pool and tennis facilities. There is also a nearby golf course.
The Cambados Parador® has forty four twin bedded rooms, eleven double bedded rooms, one suite and two easy access bedroms.
All rooms have telephone, satellite television, safe and a mini bar.
There is a restaurant, bar and meeting rooms.
The Parador® Cambados also has air conditioning, heating, satellite TV, facilities for the disabled, parking facilities (without security and limited places), free internet access in communal areas, gift shop, currency exchange, lift, tennis court and a garden.
Distance from the nearest airport is approximately 70 kms, train station is 11 kms away and the nearest port is 1 km away.