In the centre of this attractive seafaring city you will find the Parador® of Ferrol. It recreates an image with the essence of a Galician mansion possessing glazed galleries and a specific marine setting.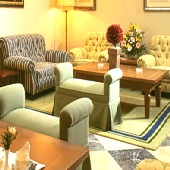 The interior decoration displays nautical elements, world maps, and navigational instruments. The main staircase has an ancient lamp taken from a boat and maritime motifs are abundant in the living rooms.

The bedrooms are spacious, displaying colors of ochre and darker shades. Some of the rooms have viewpoints and balconies enabling you to enjoy magnificent views over the port.
The restaurant offers a wide variety of exquisite Galician cooking. Some of the local traditional dishes are:
"Pulpo a la mugardesa" which is octopus with potato dish;
"Rape a la corunesa" a fish dish from nearby La Coruna;
"Sopa ferrolana" being a local seafood soup; The soup is listed last because the local custom is for soup to be served at the end of the meal. In addition food is usually served warm and only hot if specially requested.
The restaurant has a special menu for those requiring a gluten free diet.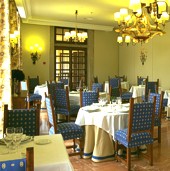 Go for a walk in the old part of the town (Magdalena neighbourhood), where you can visit the church of San Francisco. Other monuments of interest are the Cathedral of San Julian and San Felipe castle.

Outside of Ferrol there is the church of Chanteiro, the Monasteries of Monfero and Caveiro, and the village of Pontedeume.
See the local celebrations: the feasts of San Julian, the patron saint of the city held on January 8th; Nuestra Senora de Chamorro (Easter Monday); and the Feasts of Amboage in August.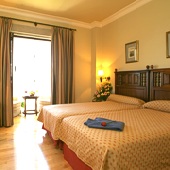 The beaches of Doninos, Cobas and Valdovino are ideal places for swimming and windsurfing.
The Natural Park of Fragas do Eume offer many walks or on a mountain bike! Other activities in the area are golf and rowing.

The Ferrol Parador® has twenty four twin bedded rooms, five rooms with a double bed, five single rooms, one suite and one easy access room.
All the rooms have a private bathroom and there is a telephone, television, TV canal plus, safe and a mini bar.
The Parador® Ferrol has air conditioning, central heating, currency exchange, lift, satellite television, gift shop, restaurant and bar. There are facilities to hold meetings at the hotel.
Distance from the nearest airport is approximately 50 kms, train station is 0.5 kms away and the nearest port is 0.3 kms away.
Meals are served at the 'Gastrobar' with an informal but complete offer. Breakfast and event services will still be served at the Parador®.
Pets are not allowed in the Parador®.