This impressive medieval Galician tower which dominates the town now forms the focal point of the Parador® of Vilalba.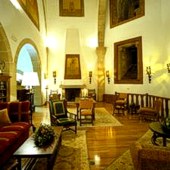 In the six rooms in the tower and the "Salon de los Andrade" there is a medieval atmosphere with mural paintings and coats of arms for decoration.
The modern extension has been built in stone in the style of a typical palace of Galicia. The remaining bedrooms, restaurant and bar and the other facilities of the hotel are in this modern building.
The restaurant serves some of the gastronomic specialties of this region as well as international cuisine. There is a special menu for those on a gluten free diet. Recommended local dishes are:
Lacon con grelos which is cooked pork with chopped turnip tops.
Empanada de raxo, a pork and potato savory pie.
Capon vilalbes which is a Christmas season special with the capon being roasted in the medieval style.
There are several interesting places to visit in the Galicia region within a hours car drive from Vilalba.. Santiago de Compostela used to be the third most visited place of pilgrimage during the first one thousand years following the birth of Christ. The cathedral contains the tomb of the apostle St. James (San Tiago).
The capital of the Province Lugo, also has a cathedral and the Roman defensive walls are still standing.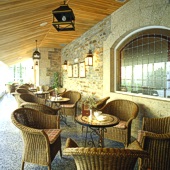 On the coast of Galicia visit A Marina with kilometres of long beaches and the fishing harbours Ribadeo, Foz, Mino, Burela and Vivero.
In La Coruna you may stroll along the seaside promenade or walk to the Tower of Hercules. Take time to visit the vanguard museums here: The House of Sciences, Museum of Man, and House of Fish.
See the various festivals of this region including San Ramon on August 31, Santa Maria held on the 1st of September not forgetting the Xira, a countryside pilgrimage across the river Magdalena.
The Fair do Capon takes place December 21 with poultry being for sale, and in the springtime visit the San Simon Fair of Cheese.
In Lugo the festival of San Froilan are held on October 4th.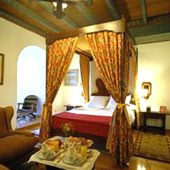 A visit to the thermal waters of Alligail is a local attraction worth visiting.
Tour the rivers Magdalena and Ladra, the lakes of Valverde, and the Northern coast and estuaries of Galicia.
The Vilalba Parador® has thirty five twin bedded rooms and thirteen double bedrooms
All the bedrooms have private bathroom, telephone, satellite television, safe and mini bar.
The building has air conditioning in the dining room and bedrooms and there is a gymnasium and sauna. There is central heating, currency exchange, lift, garage, piped music, satellite television, free internet wireless, restaurant and bar. There are also facilities to hold business meetings. The Parador® Vilalba does not have a private swimming pool.
Distance from the nearest airport is approximately 105 kms, train station is 35 kms away and the nearest port is 84 kms away.
Pets are not allowed in the hotel.