This former monastery on the banks of the river Sella has been extended by a recent wing blending harmoniously with the architectural and constructional qualities.
The Cangas de Onis Parador® hotel, with its modern and comfortable installations, is the ideal place to admire the Asturian landscape. From here enjoy the characteristic fiestas, the ancestral folklore, and taste the best and most genuine of its rich gastronomic recipes.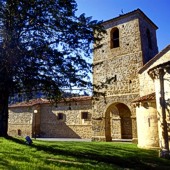 From this National Monument, the San Pedro de Villanueva Monastery, you can reach many wonders such as the Picos de Europa (Peaks of Europe) range of mountains, the Covadonga Mountain and the nearby river Sella.
Enjoy the exquisite cuisine from this region which is served in the restaurant.
Worth sampling are: "El pote Asturiano" an Asturias broth;
"Fabada" which is a dish of beans with herbs and sausages;
local produced cheese especially Cabrales, Gamoneo, and Beyo;
The regional drink to accompany these dishes is cider.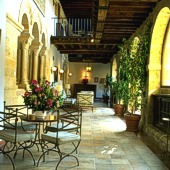 The Parador® of Cangas de Onis has fifty three twin bedrooms, nine double bedrooms and two single bedrooms. All bedrooms have TV canal plus, safe and mini bar.

The hotel also has meeting rooms, children's playground, air conditioning, heating, bar and restaurant, garden, parking facilities (without security and limited spaces), free wireless internet, satellite television, currency exchange, lift and facilities for the disabled.
In Cangas de Onis, visit the chapels of Santa Cruz and San Antonio. The Royal Site of Covadonga - comprising a museum, a wine cellar and the church is a mandatory visit.
Other interesting places include the centre for nature Interpretation in Picos de Europa, Santa Cruz and Santa Eulalia de Abamia and the prehistoric caves of Buxu and Tito Bustillo.
This region is full of traditions reflected in the folklore and popular feasts. The main feasts are: San Antonio (June 13th), the Pastor Feast in La Vega de Enol (June 25th) the Feast of Nuestra Senora de Covadonga, the Patron Saint of Asturias (September 8th).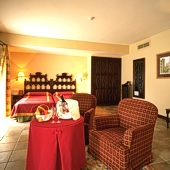 It is worth watching the international canoeing descent of the Sella river (second Saturday of August) and the cheese contests of Cabrales and Beyos, chestnuts contest in Arriondas, and the cider contest in Nava.
In the Picos de Europa, you can spend your time fishing, canoeing, trekking, climbing, or riding horses or mountain bikes.
Also visit the lakes of Enol and Ercina, the gorge of Beyos y el Ponton, the ravine of the Cares river, and the coast from Ribadesella to Llanes.
Distance from the nearest airport is approximately 115 kms, train station is 60 kms away and the nearest port is 83 kms away.
Pets are accepted in this Parador® (conditions apply).