The Parador® Ribadeo is at the mouth of the Eo river. It is a marine and tourist enclave on the border of the Asturian coast.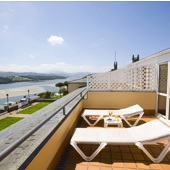 Its magnificent position enable guests to enjoy views of the Galician countryside, the Eo estuary and the small Asturian villages.
A marine influence is in the decor in the common areas. The bedrooms are welcoming and comfortable, some with splendid panoramic views.
The Ribadeo Parador® restaurant is noted for the dishes of Galiza but on the menu there are also international and vegetarian dishes. There is a separate menu for those on a gluten free diet.
In the restaurant taste the typical cuisine of Galicia. Some of the best dishes are "empanada" (stuffed pie), "lacon" (salted shoulder of pork), or the Galician bouillons. Being a coastal area, do enjoy the seafood for which this region is famous.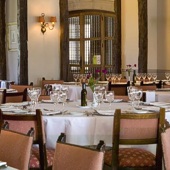 In Ribadeo, see the fort San Damian and the Dos Santos bridge. Also worth visiting is the Santa Maria Chapel in Castropol (15 km.) , the Pardo Palace, and the folk museum of Teixois (29 km.).
The "Xira a Santa Cruz" is a typical Galician "romeria" (pilgrimage) which takes place on the first Sunday in August at Monte Santa Cruz. The main festivals in Ribadeo is held on September 8th.

The Eo estuary gives you the possibilities for fishing or to take a boat trip.

Other activities available are pony trekking, riding lessons and flying a microlight aircraft. A visit to the beautiful Cathedrals Beach, located some 3 miles from the Parador®, should not be missed.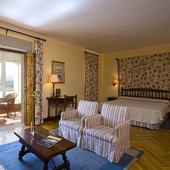 The Parador® of Ribadeo has thirty seven twin bedded rooms, four double bedded rooms, two suites, two duplex rooms and one easy access room.
In the rooms there is a telephone, television, TV canal plus, safe, mini bar and air conditioning.

Also there is heating, air conditioning in bedrooms and dining room, currency exchange, lift, garage and parking facilities (without security and limited places), garden, restaurant, bar, conference facilities, wireless internet, safe in the reception and facilities for the disabled.
Distance from the nearest airport is approximately 120 kms, train station is half km away and the nearest port is 1 km away.